What to Expect on Your First Driving Lesson
16 Feb 2021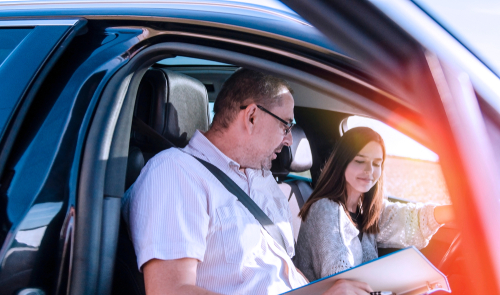 If you have just booked your first driving lesson, you are probably a little bit nervous. But don't worry; you will not be the first beginner your driving instructor will have seen who is nervous. In fact, being nervous is perfectly normal when it comes to driving lessons for beginners.
A good driving instructor will take a little bit of time to get to know you so that they can help you get the most from your lessons.
Before you start
Don't be late for your lesson. After all, you are paying for the time, so it's important to make the most of it. Remember that your driving instructor will need to check you can drive so they will need to see your provisional driving licence at your first lesson.
The vehicle
It is usual for your driving instructor to pick you up from your place of work, or your home in the car that will be being used for your lessons. These cars have dual controls so that the instructor can keep you both safe when you are behind the wheel.
Do not expect too much driving to take place during your first lesson, and you are unlikely to be doing anything fancy such as reversing round corners. Learning to drive a car requires concentration and a good knowledge of your vehicle so your first lesson is likely to focus on familiarising yourself with the controls in the car and what they all do.
Getting behind the wheel
Once you have been taken through the basics, your driving instructor will take you to some quieter roads and you are likely to get a chance behind the wheel. Whilst you may not spend a long time driving during your first lesson, it is important that having learnt about the different controls in the car you get a chance to put the theory side into practice.
Your instructor will go at a pace that suits you so what you do will depend entirely on how comfortable you are. You are, however, likely to have a chance to try moving off and getting ready to use your gear, clutch control and seeing if you can find the biting point (this can take a while for some people), checking your mirrors, signalling, practising gear changes, and of course stopping the car.
Don't worry if you don't take everything in
Don't be disheartened if you struggle with your first lesson; it can take a few lessons before some drivers feel comfortable behind the wheel. Your instructor will not move to the next step until you are ready to move forward and really get into the swing of things.