Driving Instructor Training
If you're looking for a new career; one that fits around you and your family and involves really helping others develop good driving habits, then you may be interested in training as a Beverly Slater Driving Instructor where you can really get something out of your work, besides a good rate of pay, of course!
Beverly Slater welcomes applications for those who would like to teach others how to drive, and we'd love to hear from you if you've got the qualities we need for our team.
We are currently looking to recruit individuals in the following areas:
Are you ready to become a driving instructor?
Ask yourself the following questions, to see if you have what it takes to become a driving instructor with Beverly Slater:
Are you hardworking, reliable and organised?
Do you have a current driving licence?
Do you think you could be patient, calm and sensitive to the needs of students?
Do you think you could be flexible enough to cope with a range of driving abilities?
If you answered yes to the questions above, then we'd love to hear from you in order to talk
about your prospective career as a driving instructor. Simply fill in the form above, and one
of our friendly team will be in touch to talk about your new career in more detail.
This could be the start of the flexible career you were dreaming of!
Driver Instructor Legal Entrance Requirements
The Driver and Vehicle Licensing Agency (DVLA) requires each applicant to satisfy the following. You must:
hold a full UK or European Union unrestricted car driving licence;
have held it for a total of at least four out of the past six years;
not have been disqualified from driving at any time in the four years prior to application, and be a "fit and proper" person. All convictions (motoring and non‐motoring) will be taken into account when the DSA assesses your suitability to be entered on the Register. You will be required to have an enhanced level criminal record check, which is used to assess your suitability.
Driver Instructor Qualification Process
There are three qualifying exams to become a driving instructor.
A theory and hazard perception test (Part 1);
A practical test of your driving ability (Part 2);
A practical test of your ability to instruct (Part 3);
You must take and pass all three parts of the examination in this order and must successfully pass the Part 2 and 3 tests within two years of passing the Part 1 test. If you are unable to complete the examinations within this time you must start again from the beginning and pass each part once again.
You can take the theory test as many times as you wish but you are only allowed a maximum of three attempts at each of the practical tests within each two year qualification period.
ORDIT Approved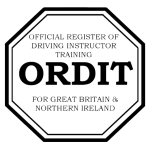 The Official Register of Driving Instructor Trainers (ORDIT) was set up and is managed by the Driver and Vehicle Standards Agency (DVSA). Its aim is protect the public from sub-standard driving instructor training and unscrupulous business practices.
To be ORDIT registered we submit ourselves to regular inspections, abide by the ORDIT code of practice which includes advertising, selling and customer service.
All our driving instructor trainers are ORDIT registered.