Common Ways You May Fail Your Driving Test
14 Feb 2022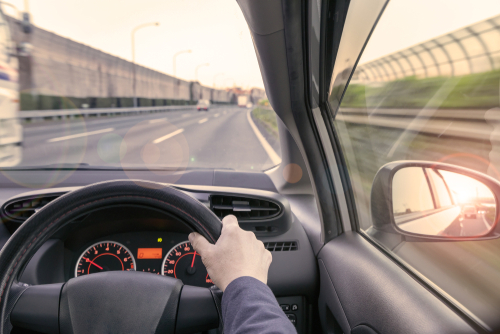 Many of us put a lot of pressure on ourselves when taking our driving test for the first time, but over 50% of people fail their first time. There are a few reasons why we fail our driving test, one of them being nerves, but there are some reasons that we can avoid. With the right preparation, you will be one step closer to getting that license! We have put together a list of reasons people fail their test and how to avoid making the same mistakes when it comes to your own driving test.
How people can fail their driving test
1 – Making inadequate observations at a junction
It's important that drivers look properly when at a junction, as accidents continue to happen due to one driver not seeing the other. So when you're approaching a junction, you need to decrease your speed and signal your intent so that other drivers can preempt what you're going to do. When at the junction, stop and carefully analyse the road to make sure it's clear for you to join. You need to look out for other road users, including cyclists, motorcyclists and pedestrians. 
2 – Not using their mirrors
The point of a driving test is to prove to the examiner that you're a safe driver and this includes using your mirrors so you're aware of all of your surroundings. Everything you do when you're driving must include your mirrors. Such as manoeuvres, acceleration, a change of direction, braking, navigating a hazard, and starting and stopping. During your test, make it clear to your examiner that you're checking your mirrors throughout the drive.
3 – Driving at an Inappropriate Speed
One of the most common reasons for failing a driving test is speed. This includes driving too fast and driving too slow. The key is to know the speed limit at all times. Drive close to the speed limit, but make sure not to go above it as this will result in a fail. Knowing the speed limit and driving close to it is important because it will show the examiner that you're a competent driver and can read the road. It's important to remember not to go above the speed limit. 
4 – Lack of Steering Control
Having a firm grip on the steering wheel when driving is a must. If you cross your hands during a driving test, you shouldn't automatically fail. However, crossing your hands when holding the steering wheel can lead to the driver not being in control of the car, especially when turning a sharp corner. The examiner is looking to make sure you have control of the vehicle at all times. When changing gears, you should make them brief so that you have 2 hands on the steering wheel as much as possible. And most importantly, don't remove both hands from the wheel!
5 – Parking
When entering and exiting a parking space, it's vital to check your mirrors. A driver can get distracted when getting in or out of a parking space without hitting a parked car. Which means they forget to look out for oncoming traffic. Checking your mirrors, and not forgetting your blind spots are key for parking safely. The examiner will ask you to complete one of 3 exercises. 
Pulling up on the right-hand side of the road and reversing 2 car lengths backwards and rejoining traffic

Parking in a bay (either reversing into the bay or reversing out of the bay)

Parallel parking

 Make sure you practice all 3 with your driving instructor until you become confident with each of them.
Bev Slater Driving School can help you pass your test!
Preparing for a driving test can be tricky, so contact us to book some extra lessons or a catch-up lesson and practice some of these mistakes before the big test!